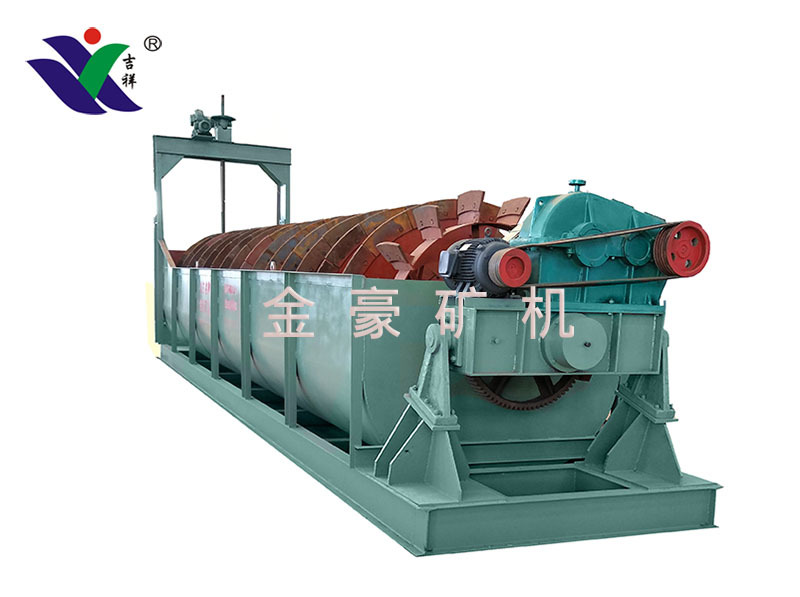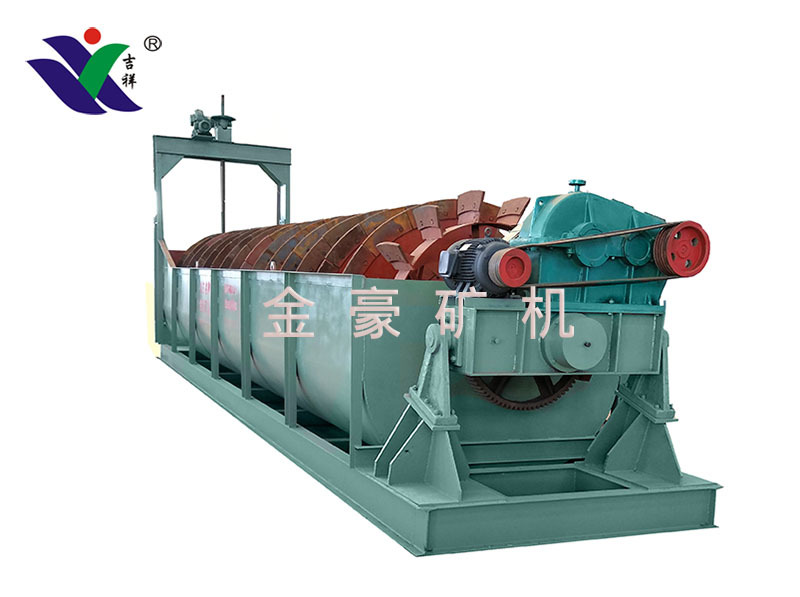 ---
Jinhao mining machinery for the main components of the spiral classifier structure to explain
---
Spiral classifier is an old type of classifier. We first produced it according to foreign drawings, and after more than ten years' efforts, we basically formed a series with nearly 20 kinds of specifications and spiral diameters of 300-3800mm, which can meet the needs of the domestic market. After years of experimental research and development of product performance, manufacturing quality and structural improvement, has achieved certain results. The next Jinhao Mining Machinery for the main components of the spiral classifier structure to briefly do the following explanation.
1. Transmission device: Spiral classifier consists of motor, reducer, cylindrical gear pair and bevel gear.
2. Spiral (left and right): It is composed of hollow shaft, bracket, spiral blade, iron lining, etc. The hollow shaft is made of seamless steel pipe, journal and flange welded together. The service life is the key to use. The iron lining is made of wear-resistant material.
3. Lower support force: Since it is immersed in pulp for a long time, it is easily worn and its maintenance and replacement are its main functions. Therefore, the spiral classifier adopts movable bushing and nylon bushing structure. When the bushings and liners are worn out, the last set of bushings and liners can be replaced by lifting the screws for more than ten minutes with the lifting mechanism, which is convenient for maintenance and replacement.
4. Water tank: It is welded with steel plate and various profiles. The sink has all the lightning-proof awards and bears the weight and full load of the body itself. Therefore, it is very important to support the construction of the foundation of the sink. In order to avoid the deformation of the water tank due to improper support, which may affect the operation of the machine, and to facilitate the rotation, the spiral classifier provides a schematic diagram of the foundation structure, which can be used as a reference for the foundation design.
5. Drain valve: In order to drain the slurry from the tank when necessary, there is a drain valve in the lower part of the tank, which can drain the slurry at any time and can be closed during normal production.
6. Lifting device: It is composed of motor, worm gear reducer, bevel gear pair, wire master, screw and other parts. When the spiral classifier stops working, a lifting device is provided to avoid the solid sediment in the pulp from squeezing the spiral, which leads to overload operation and the need for maintenance work.