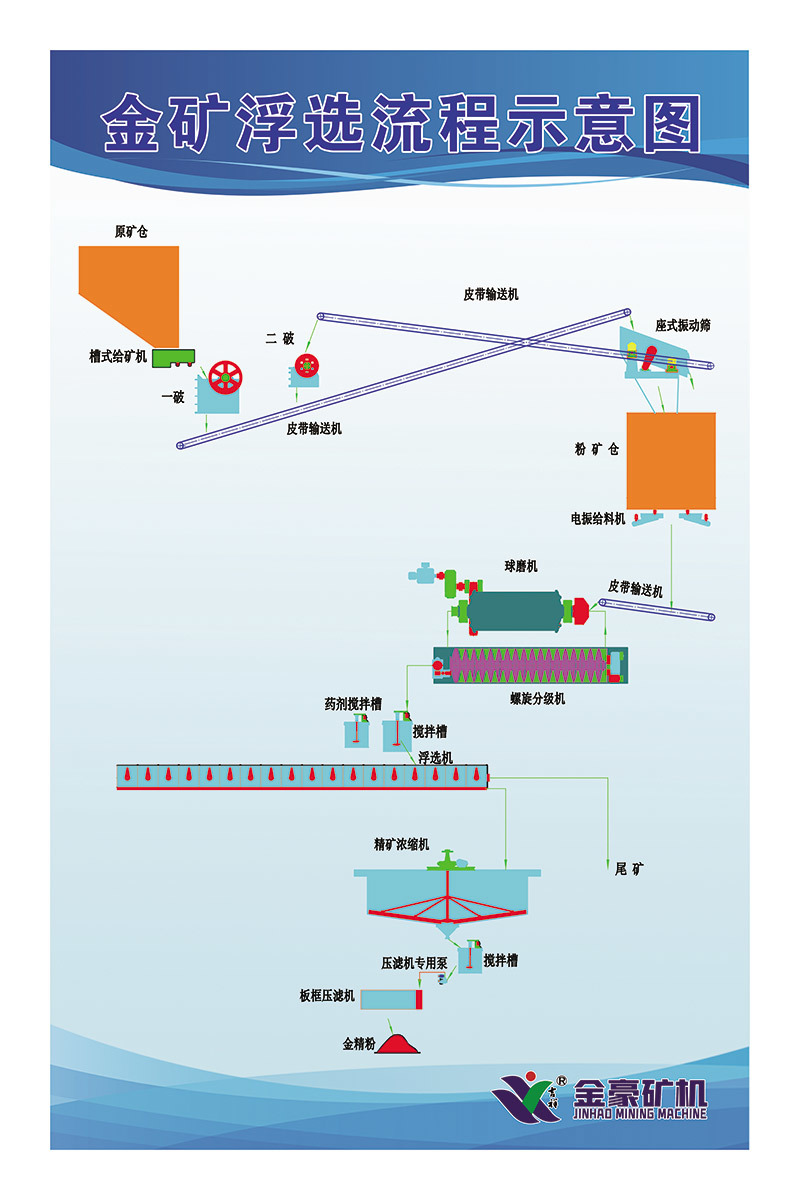 Gold flotation process
Flotation is one of the most widely used beneficiation methods in gold processing plant to deal with rock gold ore, it is often used to deal with very high floatability of Sulfide gold-bearing ore, flotation process can enrich the gold into the sulfide to the maximum, the tailings can be directly discarded, the Beneficiation cost is low, 80% of China's rock gold ore are used in the process of separation. The process conditions of gold flotation are grinding fineness, Pulp concentration, chemical dosage, inflation, flotation time, etc., all need to experiment to determine.
Whole Mud Cyanidation
Full mud cyanidation carbon slurry method gold smelting process refers to the gold ore all grinding mud made of slurry (-200 mesh content of 90-95% or more), after the first cyanidation leaching, and then directly from the slurry with activated carbon adsorption has been dissolved gold-bearing, carbon desorption electro-accumulation gold mud directly separated purification smelting process method. Including raw materials preparation, stirring cyanide leaching activated carbon adsorption counter-current, gold-bearing carbon desorption electrowinning gold sludge separation purification melting ingot casting, activated carbon activation regeneration and cyanide-containing sewage treatment and other seven operational stages.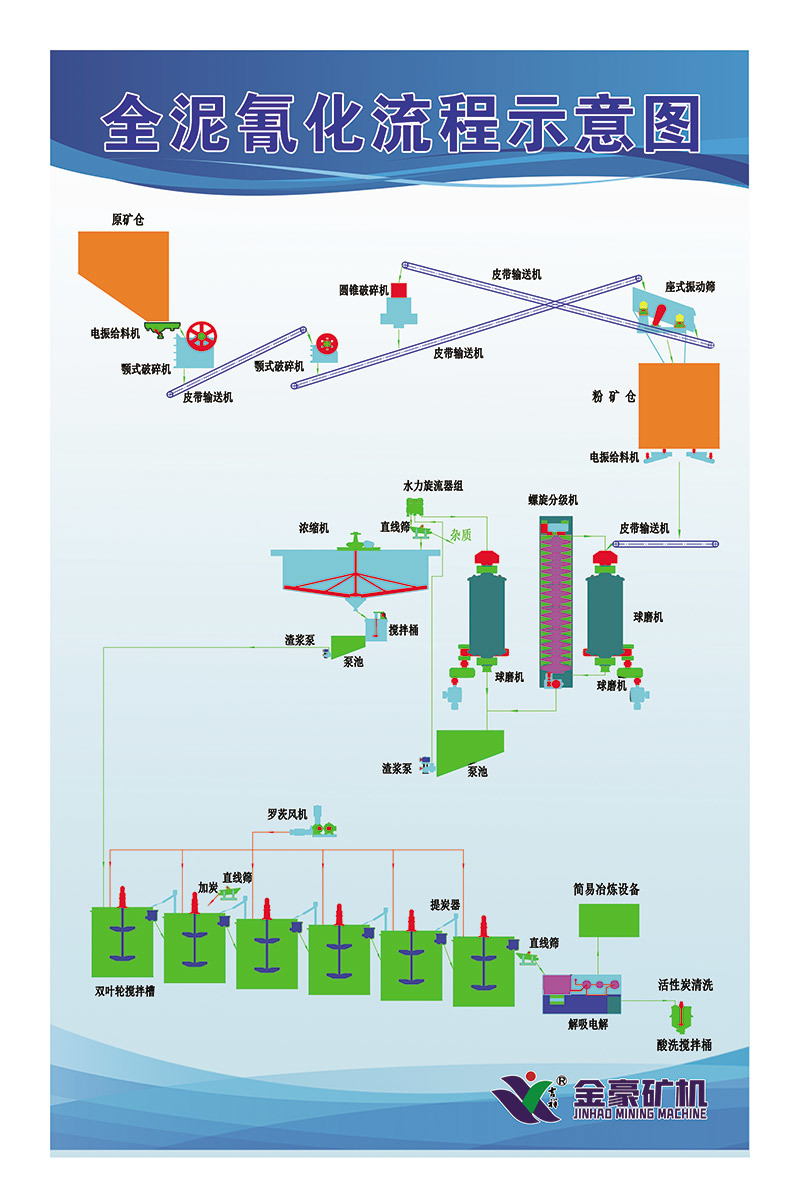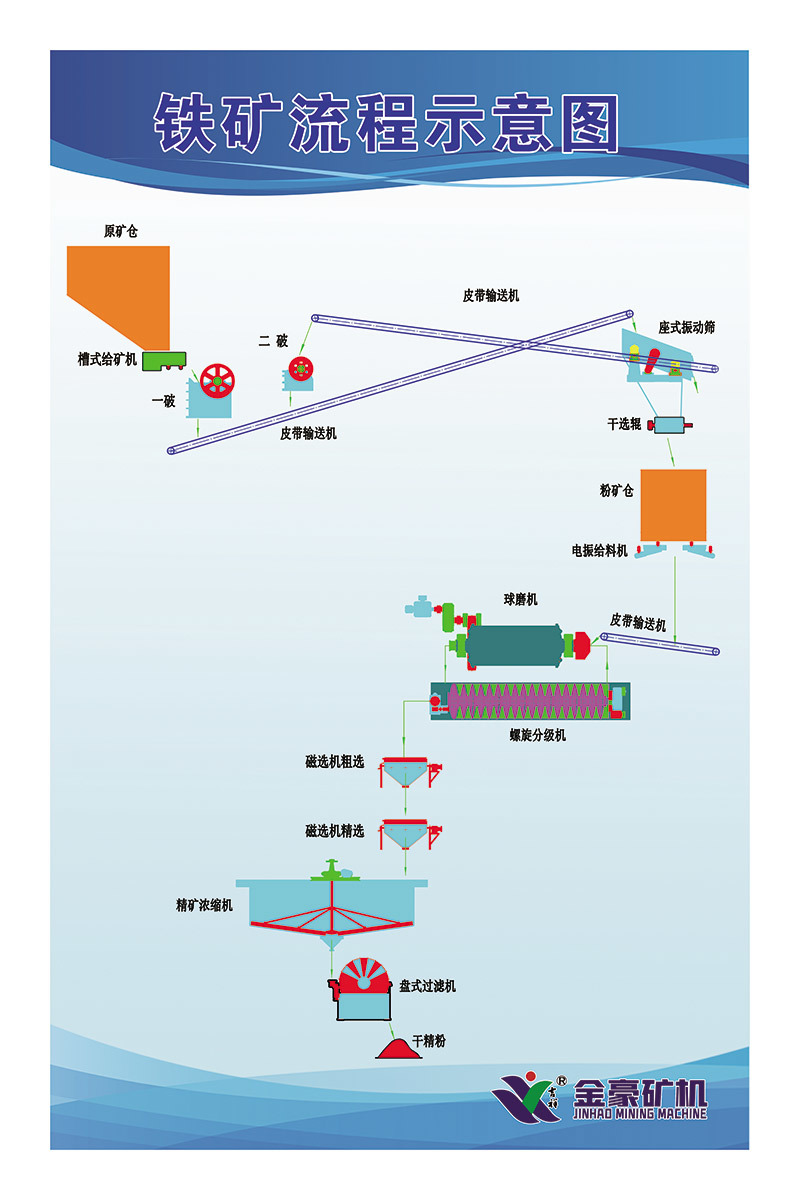 Iron Ore
Iron ore processing and production process refers to the production process of the mined iron ore to be processed and produced through various operations to get the concentrate that meets the smelting requirements. It mainly includes: ore crushing by crusher and vibrating screen screening, ball mill grinding and classifier classification; mineral separation, such as re-election, flotation and electric separation; mineral dewatering, including concentration, filtration, drying and other production processes. Iron ore processing and production equipment includes feeder, crusher, ball mill, classifier, vibrating screen, shaking table, magnetic separator, stirring cylinder, flotation machine and other equipment.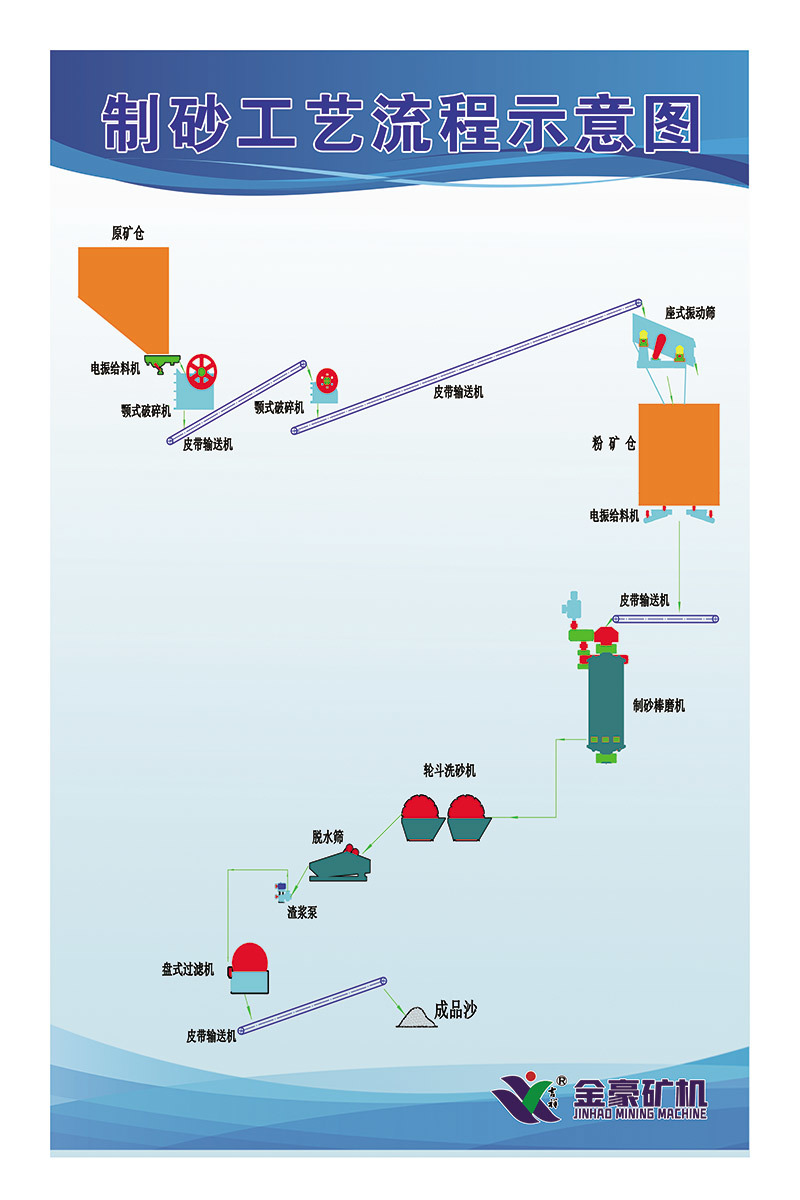 Sand making process
Sand production line is also generally referred to as sand and gravel production line is a special production line equipment for producing sand and stone for construction. Sand and gravel production line is defined according to the type of discharge, and the finished products produced include stone and artificial sand, so it is also called sand and gravel production line. It is equivalent to the combination of stone production line and sand making production line. The complete set of mechanism sand production line, quartz sand production line, construction sand production line and stone production line equipment is a combination of jaw crusher, impact crusher (sand making machine), vibrating screen (circular vibrating screen), sand washing machine, dewatering screen, filter, belt conveyor and so on. According to different process requirements, configure with the right type of equipment to give full play to the performance of the production line.
Fluorite ore process
Fluorite flotation process can be fluorite ore special properties of fluorite ore beneficiation and purification, fluorite ore processing production process is divided into crushing and screening, fine grinding, classification and cleaning, flotation drying process, fluorite flotation process is currently playing a very important role in the application of fluorite, with economic, energy saving, environmental protection, high recovery rate, high accuracy of finished products. The fluorspar flotation process is a complex ore treatment process, and its influencing factors can be divided into non-adjustable factors (the nature of the raw ore and the water quality of the production water) and adjustable factors (flotation process, grinding fineness, pulp concentration, pulp pH, flotation chemicals system). Our company produces a complete range of fluorite flotation machines and models, and we can provide the right fluorite flotation production line with different configurations according to user requirements.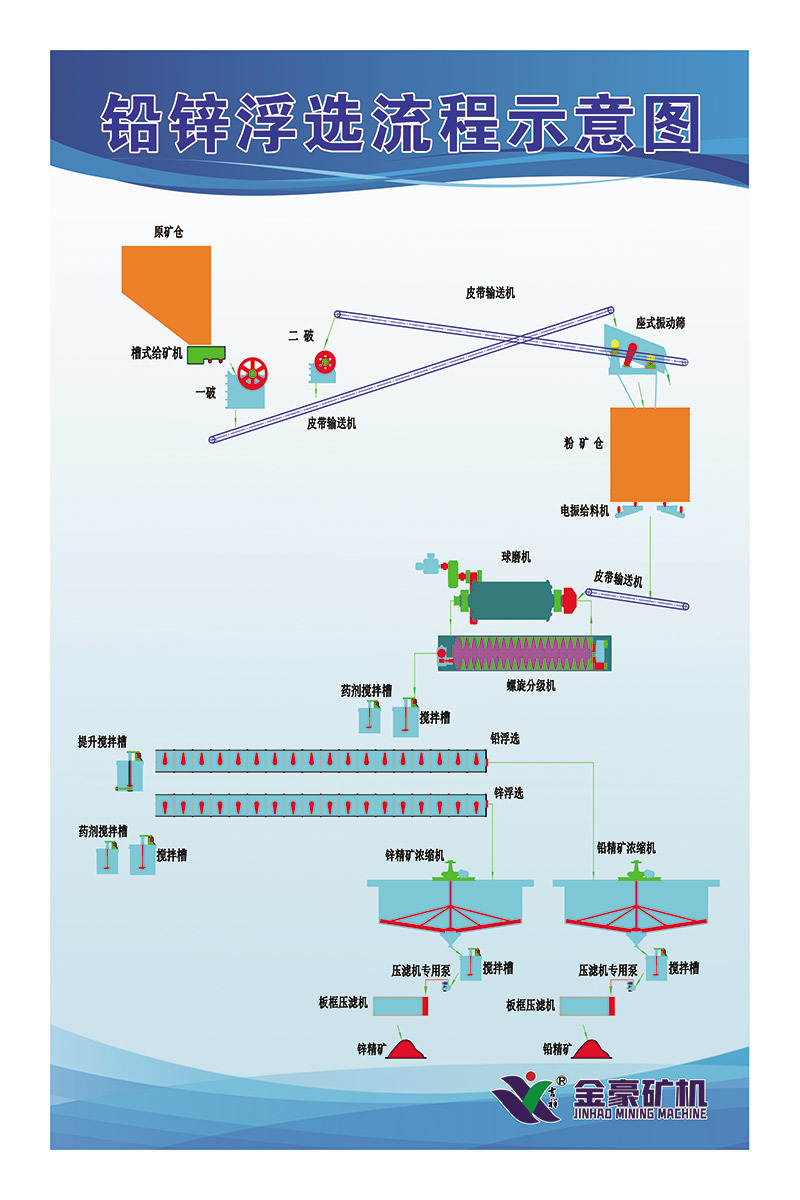 Lead-zinc flotation process
In the lead-zinc ore beneficiation process, lead-zinc sulfide ore is mainly based on the flotation flotation process flow. Among them, most of the lead-zinc ores The proportion of zinc ore is higher than that of lead ore. Therefore, in the actual process, the main principle of "zinc suppression and lead flotation" is generally used to treat lead-zinc sulfide ores. The common flotation processes for lead-zinc sulfide ores are: preferential flotation, mixed flotation, isotropic flotation, split-rate branching flotation and separation potential There are several methods of modulating flotation. Different remedies and flotation processes must be used for industrial production, depending on the nature of the lead-zinc sulfide ore and the requirements of the product.
技术实力
Technical strength

人才是企业发展的根基;技术是企业立足的根本。

公司不断引入先进的加工生产设备,配备车、铣、刨、磨、镗、钻、冲压、焊接、卷板、剪板等80余套,将工艺技术和机械制造完美结合,为客户提供更专业、更优质的矿山机械设备。

金豪矿机在成长过程中始终把人才战略放在第一位,凝聚国内矿山机械制造的行业精英,组建各类矿山选矿专家团队,在长期的设计、实践和国际交流中,掌握国内外矿山领域的先进技术和创新工艺,并拥有自主矿山设备出口权。
---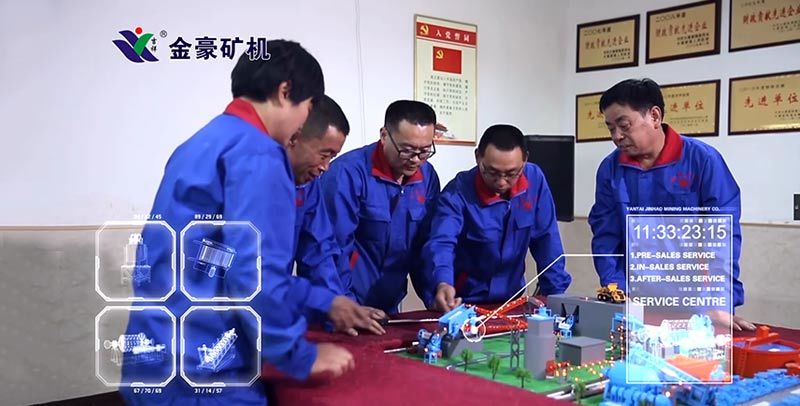 ---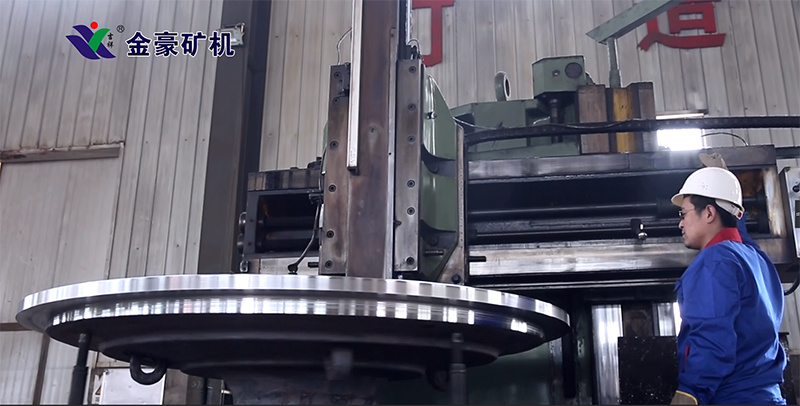 营销网络
---
金豪矿机致力于金矿、铁矿、铜矿、铅锌矿等有色金属和非金属的生产线设计和制造,是专业的选矿设备制造企业和出口企业。产品销往全国各地,并出口到坦桑尼亚、苏丹、莫桑比克、哈萨克斯坦、俄罗斯、菲律宾、马来西亚、缅甸、朝鲜、越南等国家和地区,公司总部在津巴布韦设立海外分公司。